How many of you agree that while you visit the grocery store, you have a tendency to buy more stuff than you pre-determined to shop for? Out of this stuff, most of them you already know, are going to trash cans. But next time again you're going to purchase more and more items. It may be because of lucrative packaging, your very own liking, usual claims by brands like gluten-free, sugar-free, fat-free, and so forth or due to the fact that you want to try something new.
According to the report 'Family spending in the UK for April 2018 to March 2019' by the Office for National Statistics, people spend £61.90 per week on food and non-alcoholic drinks which is 10.6% of their total expenditure, solely on food, they spend £56.60 per week. Wherein the United States populace spends 8.6% of total expenses in groceries as said through Investopedia. That's not a small number. Right?
Meal Planning in Advance
Planning your meal in advance not only makes your meal preparation easy but also helps in stockpiling the right ingredients with less wastage. Also, you know exactly what to buy and how much to buy which saves lots of bucks while grocery shopping.
I recommend using Cook Smarts' meal planning service where you get a meal plan for entire week with an option to select from vegetarian, gluten-free and paleo meals. And when you're reading this blog post, you get 1-month free trial.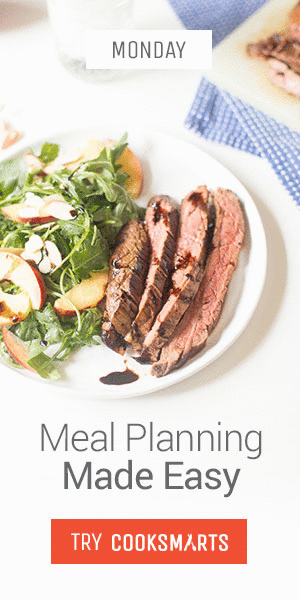 You can start your meal planning with weekly meal planner with grocery list, recipe card and tracker by Life and Apples (affiliate).
Create a Shopping List
Once you decide on meal planning, you know about the ingredients to be purchased. Prepare a shopping list after checking what's available in your pantry. This helps you to be organised and staying away from buying items which you don't need.
Do you know that you can create your shopping list with Google Assistant? If not, here is how to do it? Else you can try apps like AnyList, Our Groceries, MealLime, etc.
Spend More on Health, Less on Junk
Webmd published a brilliant article on 'How to Make a Healthy Grocery List in Minutes'. I would recommend going through it from top to bottom and know how you can change your unhealthy purchases with healthy alternatives.
While shopping at the grocery store, most of the people get trapped in various offers, deals or even sometimes loyalty rewards. But I suggest spending £4 in two salmon fillets than £1 in 4 cheeseburgers. I mean, try to stay from offers which save your money but waste your health. Brand baits you with offers mostly so make a promise to you just before entering the grocery shop that you're going to buy oats over oats choco-chip cookies.
Further, never buy a product, especially a food item without reading its label. Once you start inculcating such a habit, you come to know how brands are not letting us know what we should. Learn about food labels from NHS here.
Cut Down on Waste
Many times we buy so much stuff that we can't keep track on. Better if you don't overbuy things as nowadays everything is easily available for buying. Else, if you're living in a remote area, plan things accordingly and try to use it as per its 'use by' date. You can also donate it to the food bank near you before it gets spoiled.
Else, you can use it as compost in your home garden or if you live in an area that has a local food waste recycling collection service, you can use this to dispose of anything you can't eat or compost at home. It may be recycled into an awesome best soil improver or fertiliser or even generate power that may be fed again into the countrywide grid.
Buy in Bulk What You Can
Few things can be bought in bulk, mostly non-perishable ones and of long life. By buying bulk, you are not only saving money through various offers but also, you are mentally relieved to buy the product again and again.
Easho is one of a kind wholesale shop where you can buy your favourite brands in bulk. They claim to provide a free sample with every order. It provides beauty, household, condiments, etc.
Even you can try buying products under offers from your favourite grocery store.
Buy from CSA
First of all, what does CSA mean? CSA stands for Community Supported Agriculture which is a method of food production that connects the farmer and the consumer directly. Hence it's a more sustainable solution to grocery shopping.
In 2011 the Soil Association commissioned research into the impact and benefits of CSA as part of the 'Making Local Food Work' programme which concluded that this scheme enables communities to take control of their food supply by providing their members with a variety of local, often organically produced food from vegetables and meat, to milk, bread and honey.
You can locate your nearest CSA right here.
You can even sign up for CSA boxes which basically include seasonal vegetables or fruits in a subscription box. Here are a few organic veg box services available in the United Kingdom.
This was all about how you can save money on your grocery shopping including how to save the environment and help your community too. I have another interesting post about Planning Your Budget Perfectly.
If you have any other tips through which spending on grocery items can lessen down, please don't be shy in sharing it with us.
Also, if you enjoyed the post, let me know in the comment box and if you don't please tell me where I can improve. Share it with the rest of the world so that they can also get benefitted.